Facebook shifts up a gear
Sep 30, 2020
-
min read
min read
We are still a while away from the "mass adoption" of XR (collective name for VR / AR), but among the big technology giants the battle is raging for what they see as "the next big computing platform". The corona crisis has only fueled the fire even more, and so I serve you with an overview of the most important, most striking events and changes in the XR landscape.
Facebook is reinforcing its ambitions
This month has now been on the agenda of XR enthusiasts for 7 years. Facebook Connect took place on September 16. That event is the new name of the former Oculus Connect; an annual conference on AR and VR organized by Facebook. All XR activities are now part of Facebook Reality Labs.
They had already revealed the biggest scoop two days before the event, because the day before Facebook Connect, Apple had an event and there were rumors that the latter would also reveal more about their XR initiatives with the launch of a new iPhone. In any case, Facebook has greatly exceeded expectations with the launch of the Quest 2.
The Oculus Quest 2 is an updated version of the wireless virtual reality headset from Oculus, stands out for its bold white design and is 10% lighter than the edition launched in May 2019. In addition to the various aesthetic and comfort changes, the Oculus Quest 2 has received a boost in power and specifications over the original VR headset. More computing power, better image quality, more internal memory and 100 euros cheaper than its predecessor.
Facebook wants to make the Quest more than a gaming device. With "Infinite Office" they want to enable users to work on multiple customizable screens from their headset. Users can see live feeds from the built-in cameras, allowing them to integrate the VR world with their own home or workplace. Facebook announced a partnership with Logitech that will allow certain keyboards in the headset to be recognized, tracked and displayed, allowing users to easily enter text while working in the Quest.
PLAY
Mark Zuckerberg, Facebook's CEO, told employees at a staff meeting in late May, which was broadcast live on his Facebook page, that within a decade, as many as half of the company's more than 48,000 employees would be working from home. A good listener does not need much more to make the link between the "remote work strategy" and the "product strategy". But it won't be ten years before this gadget becomes the most popular Christmas present.
Finally, Facebook also announced its first consumer AR glasses, which will be released next year. The company is working with the European eyewear conglomerate Essilor Luxottica to make it a Ray-Ban branded product. This immediately confirms last year's rumors. The glasses are not considered an AR device, but will mirror the display of a connected smartphone. This suggests that this version is more likely to move towards Snap Spectacles or Amazon's Echo Frames. They have dubbed their advanced AR initiative Project Aria, but we should not expect a commercial launch of this until sometime in 2023.
Jay-Z's Tidal is committed to VR concerts
In June, it was announced that one of the music industry's most successful figures, Scooter Braun, was joining a $ 30 million funding round in the US startup "Wave". At the end of August, Napster was acquired for $ 70 million by the British virtual reality music company MelodyVR, which has organized virtual concerts for Post Malone, John Legend and Khalid, among others.
This month, Tidal, the music streaming service of, among others. Jay-Z, purchasing $ 7 million in "SENSO tokens" from Sensorium Galaxy. That is a new "social VR metaverse" in which users can attend concerts and visit clubs. Sensorium Corp was founded in 2018 by Russian billionaire Mikhail Prokhorov and is said to have raised more than $ 100 million in investment to date to build Sensorium Galaxy. Among others, Yann Pissenem, the driving force behind Ibiza nightclubs "Ushuaïa and Hï", is part of the team.
But it doesn't stop there for Tidal. Facebook and the streaming service will also partner to stream live concerts in the "Facebook Venues app". Owners of an Oculus Quest 2 can already enjoy this in the fall, but no problem for those who have to do without a VR headset. The concerts will also be streamed in 2D via the Tidal app.
Belgian scale-up Oncomfort raises € 10 million in Series A funding round
Oncomfort is specialized in digital sedation, a new method to relieve pain and anxiety in patients through treatment with clinically proven sessions of therapeutic Virtual Reality. Since the launch of their product in the Benelux and France in June 2019, more than 30,000 patients have now been treated. Their pain and anxiety were alleviated before, during and after interventions in clinical areas such as anesthesia, oncology, interventional radiology and cardiology. With this financial injection, they plan to further develop their solution and to accelerate the international expansion in the European and American markets.
Burning Man offers catharsis without dust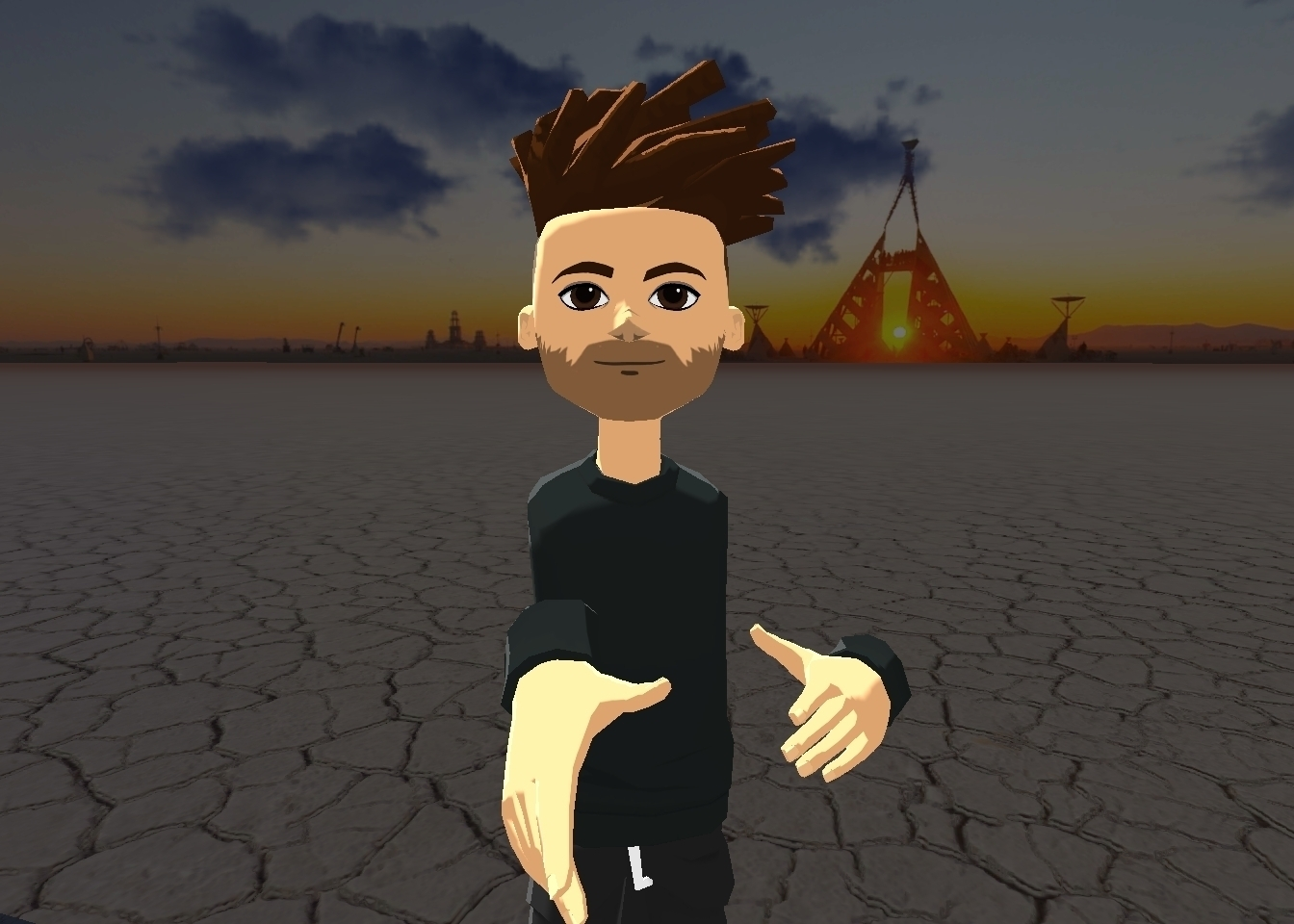 The legendary festival in the desert of Black Rock in Nevada could not take place this year because of Covid-19. The event has been on my bucket list for years and this year had to be the year that I would tick it off, but I was able to put those plans away with at least a year. For the physical event at least, because Burning Man, like so many other festivals, launched a digital and virtual variant.
BRCvr, named after Black Rock City, was available for free through Microsoft's Altspace platform. Comprising more than 100 interconnected worlds of art, music, keynotes and spiritual gatherings, BRCvr especially wanted to unite the seasoned "Burners" and VR enthusiasts in a one-week celebration of togetherness. Dancing with VR glasses still feels pretty 'awkward', but I've met new people, bumped into old acquaintances virtually and my desire to be on the 'Playa' next year and eat dust has increased enormously. .
Social VR is on the rise. Virtual reality brings people together who for one reason or another cannot or may not be together physically, although the real experience will of course always be the best. It is gradually becoming clear why Zuckerberg spoke controversially 6 years ago that VR could become the most social "social media" platform.
Facebook has clearly put its strengths on the table and, according to Silicon Valley insiders, they will compete with Apple in consumer VR / AR headsets. According to the latest rumors, Apple would launch a VR / AR headset in 2022 and AR glasses in 2023. The pace at which they are making acquisitions within the industry, in terms of hardware, technology and content, certainly suggests that they are working towards the launch of a revolutionary product.